Find out about the ECFP core team, board and wider academic support
ECFP employs a core team of experienced postdoctoral researchers who liaise with customers, scope out projects and carry out work in the laboratory. The core team is supported by a wider team of academics consisting of all Principal Investigators and senior research staff associated with the Soft Matter and Biological Physics Group. The ECFP board includes representatives from different stakeholder groups that advise on future developments in ECFP. 
Although not listed here, ECFP also engages with the group of postdocs within the research group who provide help with outreach events. ECFP supports the development of this group of early-career staff through delivering insights into industry through placements and other training opportunities.
Susanna is the Impact Research Officer for the School of Physics and Astronomy at the University of Edinburgh. She works with ECFP staff to monitor and communicate the work carried out with industrial partners.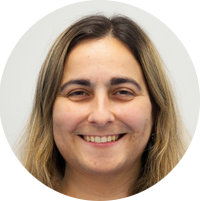 Susana Direito
Impact Acceleration Associate 2017 – 2022
Susana worked with ECFP and the National Biofilms Innovation Centre (NBIC) on a range of industrial projects focussed on microbiology and biophysics.
Susana now works at Edinburgh Innovations as a Business Development Executive with the School of Biological Sciences.