A three-in-one imaging facility for opaque soft matter
The Cryogenic Focussed Ion Beam Scanning Electron Microscope (Cryo-FIB-SEM) is a multipurpose tool for imaging the micro- and nano-structure of complex fluids.  A dedicated instrument scientist, Fraser Laidlaw, will work with you to prepare your sample and optimise the imaging protocol.  On this page you can find out about the full range of capabilities of the instrument, see some example images, and get information on pricing.
We encourage you to get in
contact with ECFP
or directly with our instrument scientist if you are interested in using the facility or have any questions this page doesn't answer.
We are delighted to introduce our Cryo-FIB-SEM facility, which is available to all researchers across the university, researchers from other academic institutions and external users including industry.
This Zeiss Crossbeam 550 FIB-SEM with cryogenic attachment from Quorum Technologies is one of only a few such instruments in the UK and offers a multitude of powerful techniques to extract as much information as possible from a large range of samples. The microscope offers resolution down to ~1nm, elemental contrast and identification, fast and accurate milling and patterning using the focussed ion beam (FIB), nanoscale tomography, TEM sample preparation and the ability to work on liquids, gels, polymers, biological matter and many other materials using the optional cryo mode.
The instrument was funded by EPSRC grant EP/P030564/1 in 2017.
The cryo-FIB-SEM is a versatile instrument and can work in a range of different modes along with a multitude of associated attachments, sample preparation techniques, and image post-processing.  In the drop-down sections below you can find out more about these capabilities.
Imaging capabilites & attachments
Sample preparation capabilities
Samples can be plunge frozen into slush nitrogen with the Cryo preparation workstation
Transfer frozen samples under vacuum into the on-column Cryo preparation chamber. This reduces frost/ice contamination on the sample from moisture content in the atmosphere
Cryo preparation chamber attached to the side of the microscope, and allows for freeze fracture, sublimation and coating of samples in a single system
Freeze samples in milliseconds; vitrifies samples, up to a few hundred um's thick, allowing them to be imaged in as close to a native/natural state as possible
Perform freeze substitution of biological samples
Image processing capabilities
Reconstruct and visualise the 3D structure of materials from FIB-SEM nano tomography datasets
Below are some example images from the cryo-FIB-SEM using a range of different samples, preparation and imaging techniques.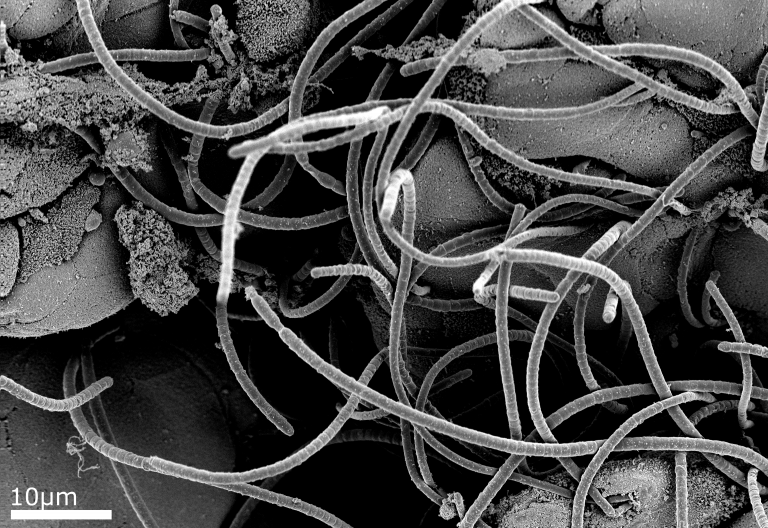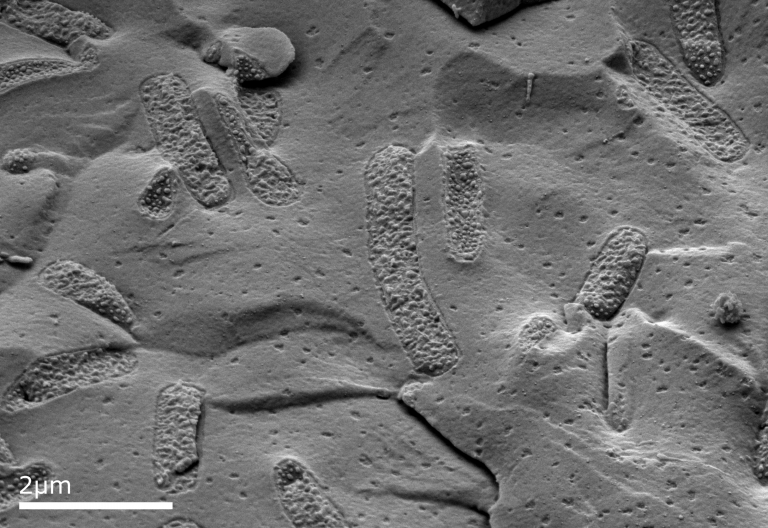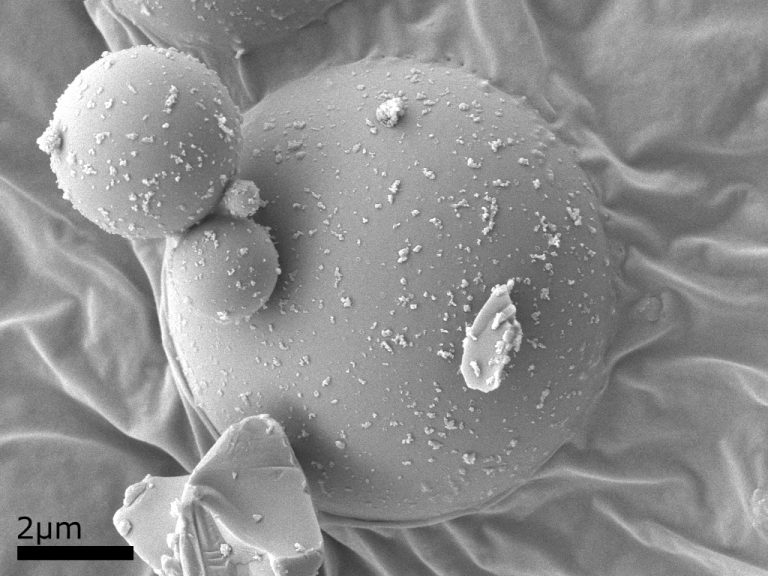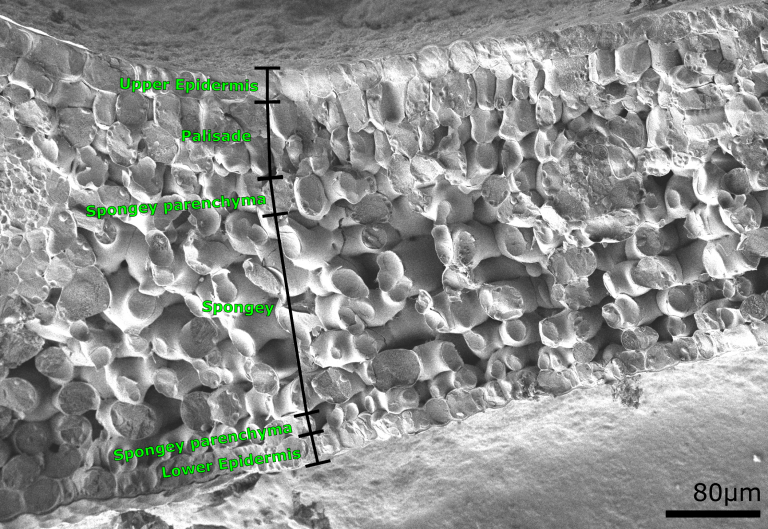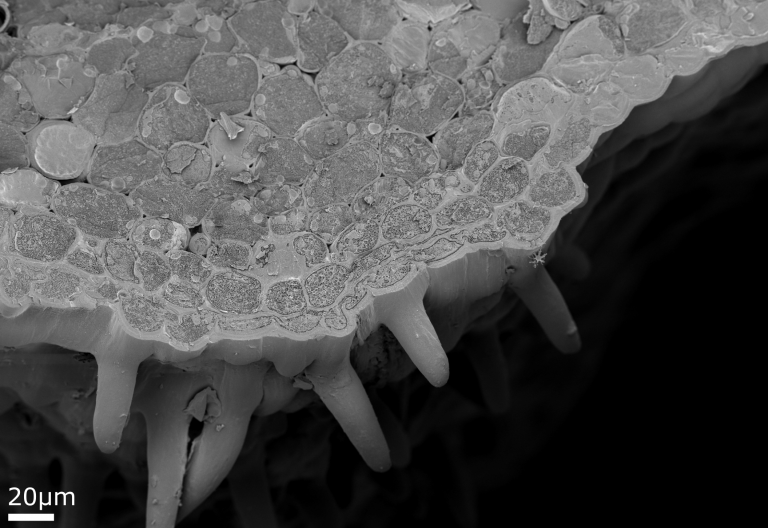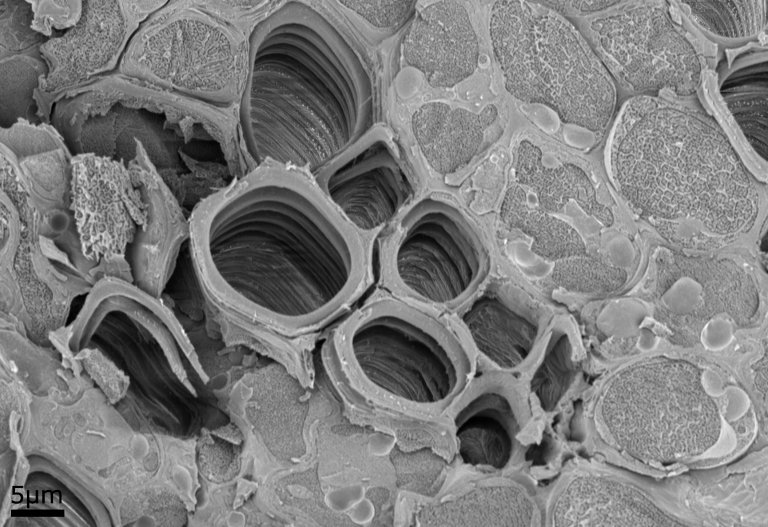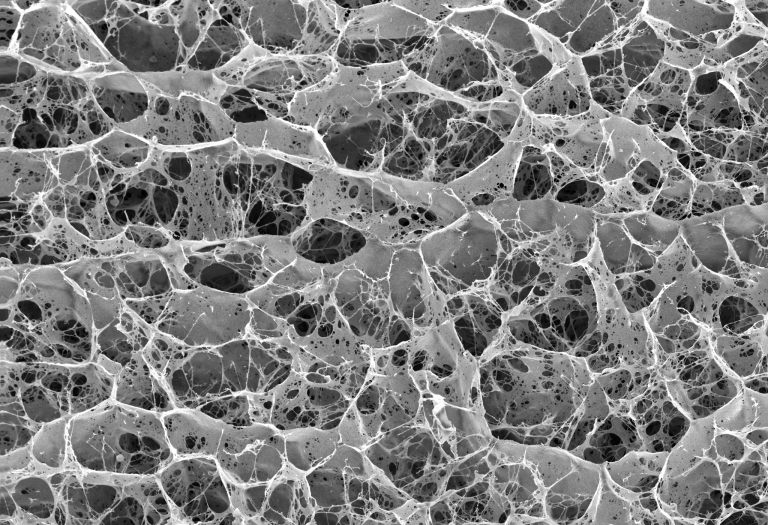 The Energy-dispersive X-ray (EDX) detector allows for the identification and mapping of elements within the sample.  Use the slider below to compare a normal SEM image with the elemental mapping overlay, allowing the sample to be segmented in to carbon-rich areas (yellow) and oxygen-rich regions (blue).  Sodium and nitrogen are also present in smaller quantities (pink and red respectively).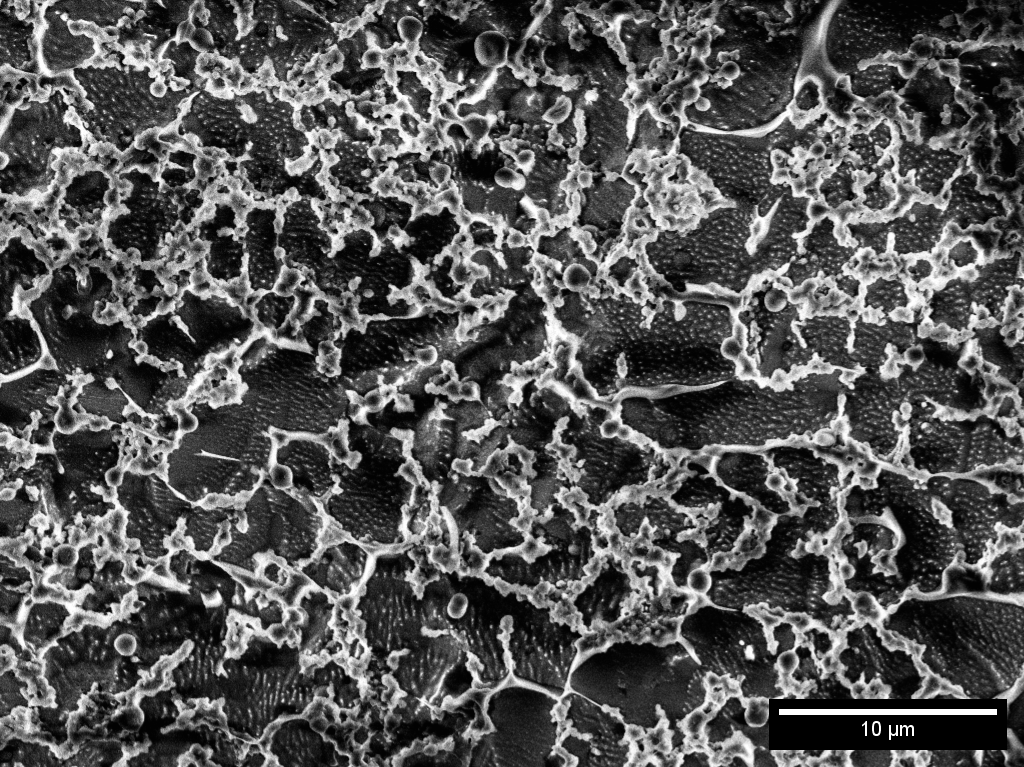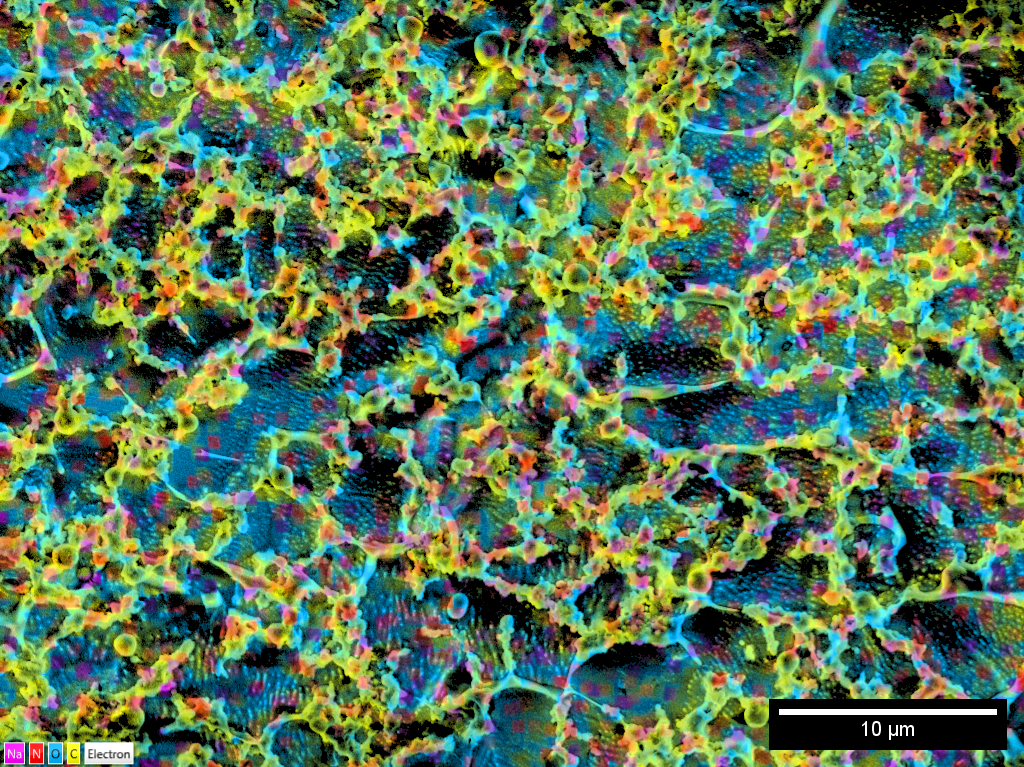 The image comparison below shows a cross section of a Brachiopod shell imaged using the InLens and Electron Backscattered (ESB) detectors.
Brachiopod shells are made up of alternating layers of organic and inorganic mineral layers. The InLens image shows the surface topography of the cross sectioned shell. It is just about possible to see the two layers in the InLens image however it isn't possible to tell which layers are organic and which are mineral. The ESB image detects the backscattered electrons, and the contrast in that corresponds to atomic number; heavier atoms appear brighter in the image, as larger atoms have a larger backscatter coefficient, and light atoms appear dark, as they have a smaller backscatter coefficient. In the ESB image the bright bands are the mineral layers (mainly made up of calcium and phosphorus) while the darker bands are the organic layers (mainly carbon).
Multiple detectors can be used simultaneously to image a sample, such as the InLens and ESB detectors in this example, to detect both the Secondary electron (SE) and Backscatter electron (BSE) signal. This allows us to view both the surface topography and the elemental distribution of the same area of the sample. EDX imaging can then be used to determine what elements are present in the sample and their spatial distribution.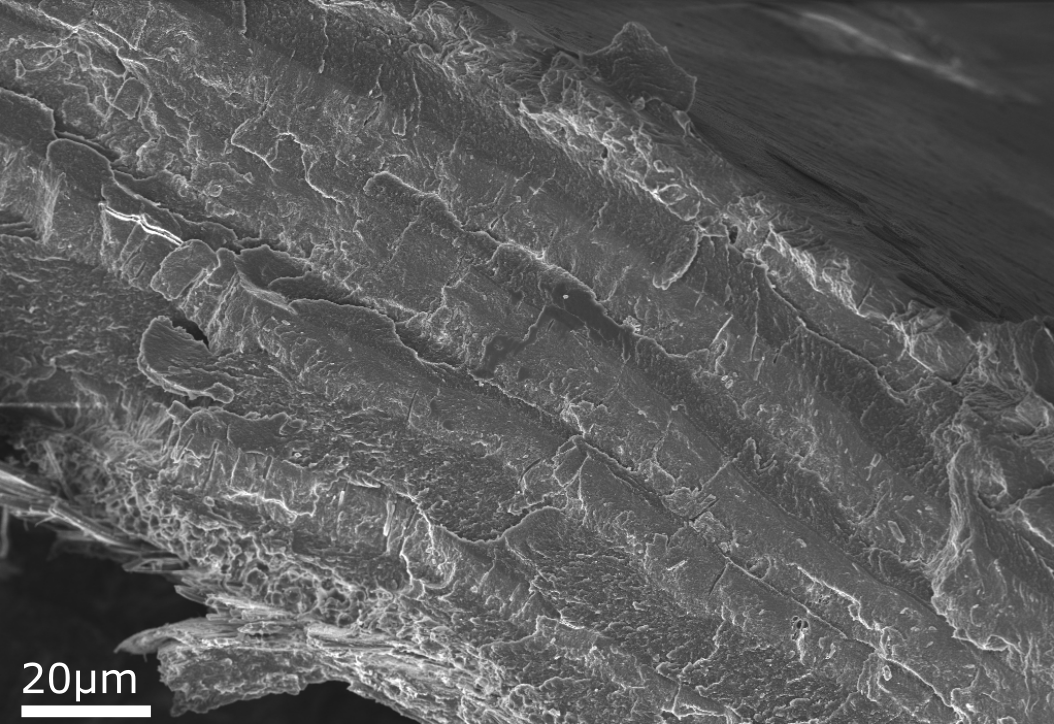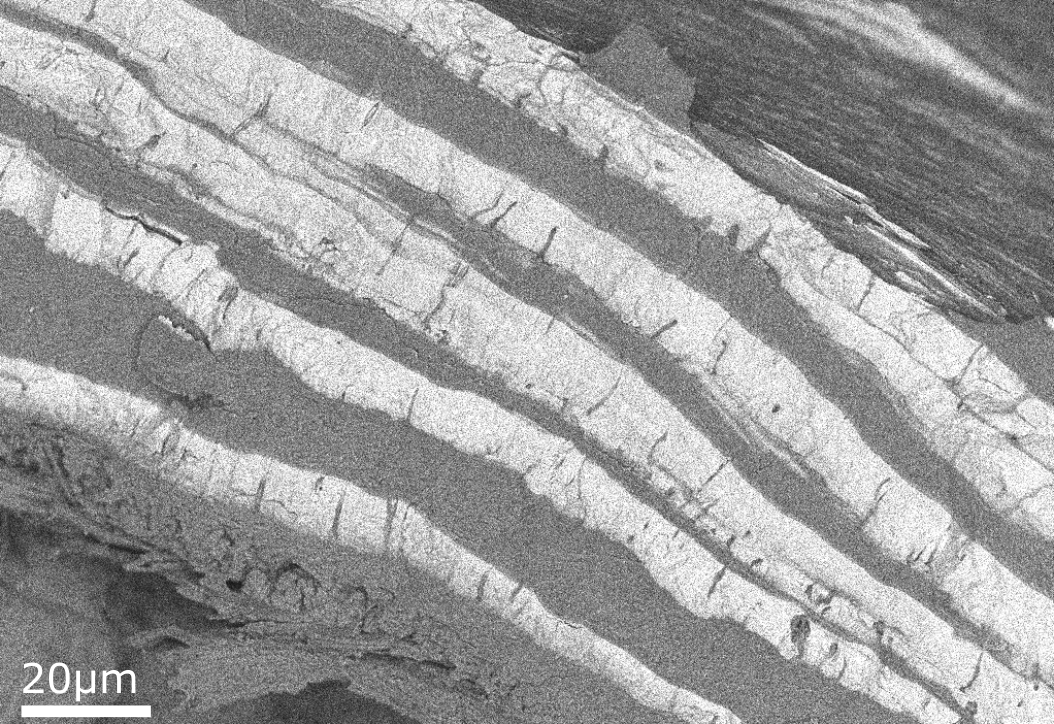 We have techniques and equipment to characterise the physical properties of individual components so that we may understand how they interact and link this to the architecture of the microstructure observed in a product.
University staff and students can use the instrument at a rate of £75/hour.
External academics and industry partners engaged in collaborative research projects can access the instrument at a rate of £150/hour.
Image preparation, acquisition, and processing is charged at £250/hour + VAT for industry consultancy projects and service contract work.
Additional Capabilities at ECFP
At ECFP we have a wide range of capabilities to help you better characterise and understand your products and processes.  Find out more on our
capabilities page
or
get in contact
with us to discuss how we can help.
Please get in contact with us to find out more about ECFP and whether we can help you.